E System Sales
800-619-9566
NEC 34 Button Phone
This webpage provides useful information and online sales of the NEC 34-Button Phone for the most NEC Phone Systems.
NEC DS2000 34-Button Phone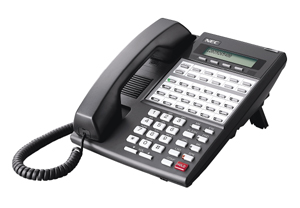 NEC 34-Button Phone for the NEC DS1000/2000 Phone System
NEC DS2000 34-Button Phone Features Include: 20 personal speed dials, 24 programmable function keys, built in desk stand, message waiting light, message notification, dual color LED's, caller ID 2 line LCD display, last number redial, busy redial, call conference, call transfer, call hold, flash key, microphone mute key, do not disturb, & headset compatible.
Call for Pricing and Availability (800) 619-9566
---
NEC DSX 34 Button Phone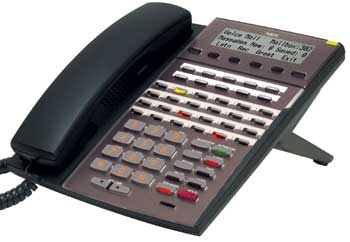 This phone is available in either black or white with features like a display that will display caller ID, a user can also perform normal functions of the phone with the soft keys below the display portion of the telephone such as programming the phone, transfer of calls create voice mail greetings and programming voice mail features. The NEC DSX 34 Button Display Phone also has 22 programmable function keys that can be programmed as line keys, busy lamp keys, call timer keys, conversation record keys, and a page all key. Other buttons include: a hold key, conference call key, speaker phone key, flash key, message waiting key along with a message waiting lamp boldly displayed on the top of the telephone, do not disturb key, intercom key, & a speaker phone key. The phone is compatible to work with cordless and corded head sets. Last but not least the NEC DSX 34 Button Display Phone has 10 personal speed dial buttons just under the display and soft keys that can hold as mush as 20 personal speed dial buttons.
---
NEC Aspire 34 Button Phone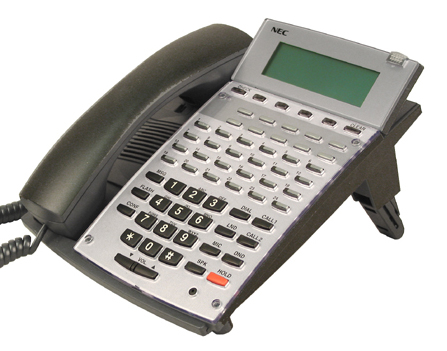 Call for Pricing and Availability (800) 619-9566
Separate Headset Jack - Using a Headset is Easy, Interactive Display - Three-line 24 character tilt display with associated soft keys for easy viewing, High Visibility Message Waiting Indicator - Message indicator can easily be seen, Interactive Soft Keys - Change to provide intuitive feature access, 24 Programmable Function Keys - User programmable for one-button access to co-workers, features, and outside lines, 15 Fixed Feature Keys - Quick Access to commonly used features, Speakerphone - Built-in for hands free operation, Volume Control - Adjust volume levels for speaker, ringer, and headset individually, Adjustable Legs - Elevates the telephone for two additional angles, Wall Mount - Each telephone has a built-in wall mount bracket.
Compatible with the NEC Aspire phone system only.
---
NEC iSeries 34 Button Phone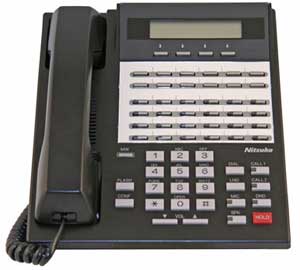 Call for Pricing and Availability (800) 619-9566
A receptionist and dispatcher will surely take advantage of the 34-Button Display keyset. Its two-line alphanumeric display with interactive soft keys and DSS console support make this phone the ideal attendant position.

32204 Castaic Rd P208
Castaic, CA 91384
(800) 619-9566
(661) 254-2228